A crisp, white wedding dress. Is there anything more classic? Trends come and go, but over the years, brides return to the elegant styling of a timeless white dress.
Think of Meghan Markle's regal off-shoulder number, or Carolyn Bessette, effortlessly chic in a silk slip. 
Whether it's crepe, taffeta or silk, a plain white dress can speak volumes on your wedding day. But if you're shopping for a simple white dress, you might be asking yourself: how plain is too plain? 
As bridal consultants, this is one of the most common concerns among brides shopping for simple white dresses. 
Brides are frequently concerned about looking too plain. But remember that when you've got hair and make-up, flowers, jewellery, and bridesmaids, all eyes are on you. 
When it comes to wedding dresses, there's a big difference between backyard barbecue and bridal—and that difference comes down to two elements: tailoring and styling. 
A beautifully tailored dress makes a bold statement. The most stunning dresses are cut to perfection, but don't be fooled by their simplicity—this kind of craftsmanship takes skills. A tapered sleeve, a plunging neckline, or the fall of a fitted skirt all take many hours of planning and pattern-making. 
Though you might not notice the details, a seam or dart in the right place can make all the difference to the fit of your wedding gown. Once it's ordered in your size, a simple white dress can be altered to fit your exact proportions with the assistance of an alterations expert. 
A classic white dress can be both a statement of pure elegance, and the blank canvas for you to customise your look. Dress it up with spangly earrings or a crystal belt, or opt for loose water-waves and a nude lip for a subtle, romantic look. 
It's the perfect backdrop for a detailed veil: you can find them now speckled with silver stars, embroidered with polka dots or studded with pearls. Or showcase the bouquet of flowers you selected and the colour scheme of your bridal party. 
A simple white dress will match perfectly with your grandmother's pearls, and the statement party earrings you picked out for the reception. 
But most importantly, a simple white dress showcases you, the bride. In a simple dress, your natural beauty glows, and your personality shines through.
As with all bridal gowns, there are no hard-and-fast rules. If you put it on and feel fantastic, it doesn't matter whether it's a slinky silk gown or a beaded extravaganza—the right wedding dress should make you feel beautiful, excited, and ultimately, like yourself.
Take a look at some of our favourite Bride Lab Brides who rocked the simple white wedding dress: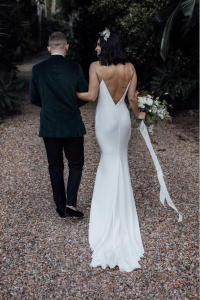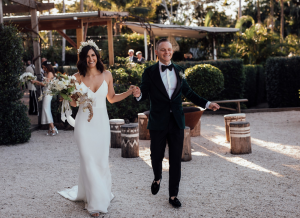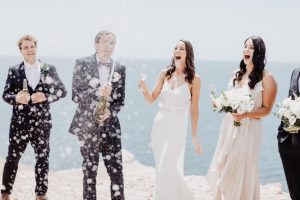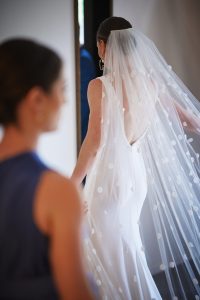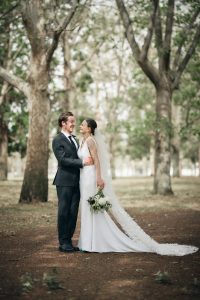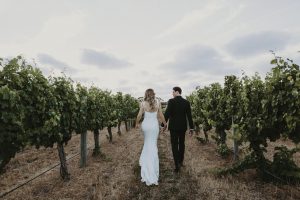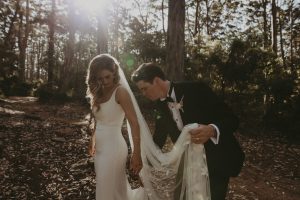 Photography credit:
1. Stephanie wearing Alexandra Grecco, Photography by Rabbit and the Bear 
2. Stephanie wearing Alexandra Grecco, Photography by Rabbit and the Bear 
3. Jodi wearing bridal separates by Theia and Marquise, Photography by Johnst Photography
4. Peta wearing Alyssa Kristin Bridal, Photography Aurora Cinemaphotography
5. Peta wearing Alyssa Kristin Bridal, Photography Aurora Cinemaphotography
6. Courtney wearing Alexandra Grecco, Photography by Stille by Olivia
7. Courtney wearing Alexandra Grecco, Photography by Stille by Olivia