Congratulations! You've found your perfect wedding dress!  Now it's time to start thinking about the girls that will be standing by your side as you say those heartfelt words to your soul mate… Your bridesmaids! They're your best friends, the people who have been there for you through thick and thin, the people who will always tell you when you have a piece of pesto stuck in your teeth! The least you can do is have them show up on your wedding day wearing an outfit that makes them feel and look good, and something that they might actually wear again!
Our number one top tip – Don't you dare type the words 'bridesmaids dresses' into Google! Instead, shop for dresses that suit the style of yourself, your wedding day, and your girls. A great place to start are the shops you visit on a regular basis, and then check out what they've got in light, easy to wear, mix and match dresses for special occasions.
But we get it – it's tough finding the perfect bridesmaids' dresses (or jumpsuits, seperates, or whichever direction you end up going!), so we've done the hard work for you and rounded up our top 5 bridesmaids dresses for a variety of wedding day styles! Read on, and no need to thank us…
OPEN ROAD MAXI DRESS by Nomadboutique.com
Is this the most perfect bridesmaids dress ever? Yes. Yes it is. And at only $75US (about $110 AUS) this gown is definitely a steal! It comes in more than 10 colour options, and don't worry, they offer international shipping! Spotted here on Rue Bride Stephanie, photography by Brandi Potter Photography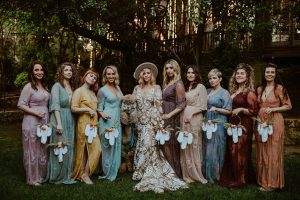 STORMY MAXI DRESS by Pilgrimclothing.com.au
This fun and flirty wrap style dress is super flattering and comes in burgundy, navy, and black. Also a total bargain at $99.95!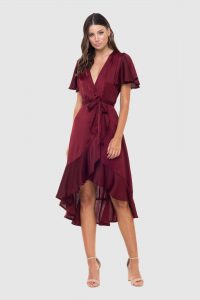 MAISIE BAMBI GOWN by Spelldesigns.com.au
Perfect for your laid back, wedfest type wedding, while this gown is a bit of a splurge at $329, your girls will love you for it!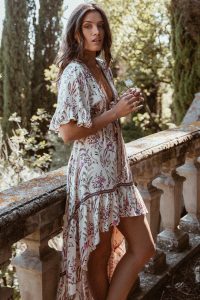 MOONDANCE COWL DRESS by becandbridge.com.au
Bec and Bridge have some great options, but I couldn't go past this sultry little number! Available in dusty rose and navy, for $300.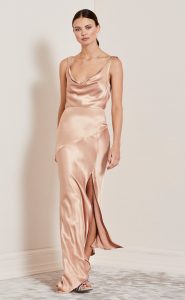 MIMI DRESS by Kookai.com.au
Asymmetrical gowns can be a girl's best friend, it reveals just the right amount of skin while still being super secure! This elegant draped style would be ideal for a more formal urban wedding, but could also work well in many of our beautiful wineries! Available in either black or pine, a gorgeous gown at just $240.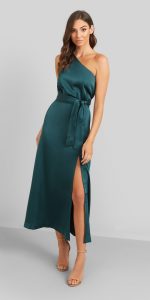 Happy shopping ladies!